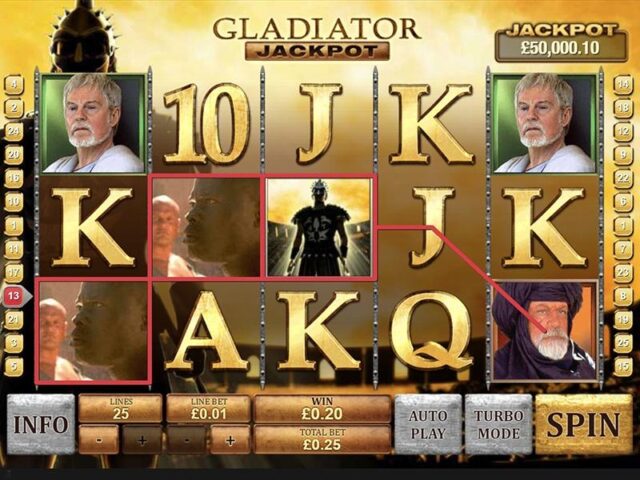 The huge popularity in online slots means that a massive number of games are now available to choose from. However, if you are looking for a truly outstanding slots experience, then you must play Gladiator slots at Will Hill Casino.
Although there are numerous exceptional slots games to choose from at William Hill online, Gladiator is truly one of the very best options out there. You don't have to be a fan of Ridley Scott's Hollywood blockbuster movie in order to enjoy this game. It is a stand-alone winner in its own right. However, if you are familiar with the film, then you will be transported directly into the excitement of Rome. The incredible graphics include genuine images of all the leading characters from the Gladiator movie and the emotive soundtrack also comes directly from the big screen. It is both a slick and attractive production.
The presentation is matched by a brilliant playability. Gladiator is a 5-reel, 25-line slots game and there is plenty of opportunity to have fun and win big at the same time. It is worth noting that Gladiator is a progressive slot game and so with a portion of each wager placed in a central prize pot, you have a chance of winning a massive jackpot cash prize.
Of course, like any slots game, the aim is to spin the reels and land the right combination of winning symbols. The symbols in play include all your favourite characters from the film and significant gladiatorial objects. If you hit three or more scatter symbols on any of the five reels, then you can enjoy an excellent Coliseum Bonus Round. You will be transported to the dungeons, where rows of tablets await to reveal how many free spins you have won and the value of the bet multiplier at play.
Meanwhile, if you land three or more helmet symbols in any of the five reels, then you will qualify for another exciting adventure, the Gladiator Bonus Round. This is a fantastic lucrative feature starring nine different coloured helmets. For each bronze helmet, you will bank 1x your bet stake, for each silver helmet 3x your bet stake and 5x your bet stake for each gold helmet. Nine gold helmets will see you land the jackpot. For a brilliantly attractive, fun and potentially lucrative slots game, check out the one and only Gladiator.